Travelling to Bolivia? Five things that you should know.
Could Bolivia be one of South America's most overlooked countries? It's not as small as Guyana or Ecuador, and, unlike the 'guays' (Para- and Uru-), it has the draw of containing at least one of South America's most recognisable 'highlights'. Yet I still can't help but feel that this corner of the Andes is skipped over by many South American travellers. After returning recently from a short trip to this bonkers country, I remain as in love with it now as I was after my first visit, 11 years ago. My newly-launched photography trip is truly the best way to capture Bolivia's epic, astonishing scenery, along with an expert photographer. In addition to this new trip, we also have our classic Highlights of Bolivia trip, which means there are double the opportunities to visit this severely underrated country. But what can you expect from your travels in Bolivia?

1. The altitude is not as scary as it may seem
Dropping into El Alto International Airport at an altitude of 4,150m is not to be taken lightly, even if Explore groups head immediately down to the city of La Paz, at approximately 3,600m. Famously one of the world's highest cities, we keep the schedule slow for the first few days – downhill walks to get to grips with the city and the surroundings, free mornings and a decent amount of downtime. Copious amounts of coca tea also help, which are always on hand in the hotel and in cafes. We're gearing you up to acclimatise to the altitude as efficiently y as possible so that you'll be raring to go for your trips up to Lake Titicaca and the Uyuni Salt Flats, as well as being able to make the most of the vivid, chaotic and compelling city of La Paz.



2. The highlights are not over-hyped – but there's also so much more
Most people can name just one, possibly two, of Bolivia's key locations – Lake Titicaca and Uyuni's Salt Flats usually make up the lucky pair of sights that are squeezed out of the depths of the geography quizzer's knowledge. And rightfully so – the biggest salt pans in the world have been made semi-famous in recent years by the Dakar Rally, but a visit here can still feel like you're the only person in the world. In fact, the shimmering horizons, warped perspectives and bleak, blinding flatness of the pans actually make you feel like you've shuffled off this mortal coil and you're the only person who's made it to heaven. Equally, the sublime views across Lake Titicaca are utterly magical and strangely reminiscent of a Greek Island hideaway, rather than a high-altitude lake. How did the Inca manage to construct their palaces here, so totally removed from the rest of society? It's just one of the things about Bolivia that boggles the mind.

But aside from the usual highlights – why not visit bright red and green lakes, filled with colour-enhancing minerals and home to thousands of flamingos? Or walk among boiling, bubbling mud-pools, and visit a cemetery for burnt-out trains? If volcanoes are more your thing, head to the Sajama National Park, where the cone of Sajama looms over the savage landscape. Here, ancient burial towers pop up out of the floor as if from nowhere.

3. Bolivian culture is even more eccentric than in other South American countries
Bolivia sadly competes with its neighbours Peru, Argentina and Chile for first-time visitors (and the attractions of Machu Picchu and Patagonia are understandably difficult to pass over on a South American debut trip). However, what I love about Bolivia is the diverse and eccentric cultural heritage found in the country, both good and bad. Llama foetuses hang throughout the markets in La Paz, and the thousands of shoe-shiners in the city often wear full-face balaclavas to hide their identities and protect their families from the disgrace of being associated with the profession. On the madder side, despite losing access to the Pacific Ocean during a border war defeat with Chile some 130 years ago, Bolivia still celebrates the public holiday of the Dia del Mar (Day of the Sea), as if they're somehow willing the ocean's return. Personally, what I love is the history behind the bright costumes, descended from a blend of Aymara and Spanish traditions, with enormous puffy petticoats and colourful shawls complete with a bowler hat perched on top of the women's heads – if the hat is worn on the side of the head, this means that the girl is single! Once an image of a poor country woman, this so-called 'cholita' fashion now embodies the cultural pride that characterises the Bolivian ideology.




4. You'll be (hopefully pleasantly!) surprised by the food
OK, well it might be situated next to the gastronomic mecca of Peru but Bolivia's food definitely has its own unique 'flavour' (so to speak!). The mixture of high mountains and jungle means that ingredients are varied – potatoes are, of course, a staple, along with yucca, plantain and rice. Quinoa is a huge part of Bolivian cooking as well, perfect for keen superfood fans. Salteñas are a particularly delicious snack – baked 'pasties', much like Argentinean empanadas, filled with meat, vegetables, egg, olives and a slightly spicy sauce – while Pique Macho is the country's typical dish. A beast of a meal, it consists of pieces of beef, sausage, onions, spicy peppers, boiled egg and thickly cut fries – a mountain of food.

On our Bolivian trips you'll have loads of opportunities to get stuck into the regional cuisine, including at the Isla del Sol, where we include a typical 'aptapi' – an Andean meal that's usually eaten as a community, including thick corn, many different types of potatoes, fried cheese, chicken, beef and salad.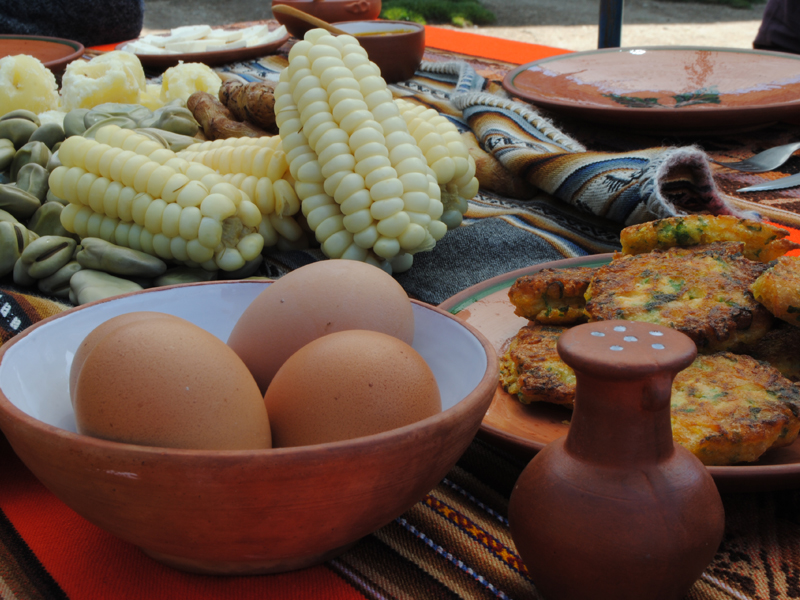 5. Alpacas really are as cute as they look
There is nowhere on Earth quite so remote, daunting, weird and strange as Bolivia, but its landscapes are also utterly brilliant. And who wouldn't love a picture of a lovely llama or alpaca popping its head out of the altiplano?!